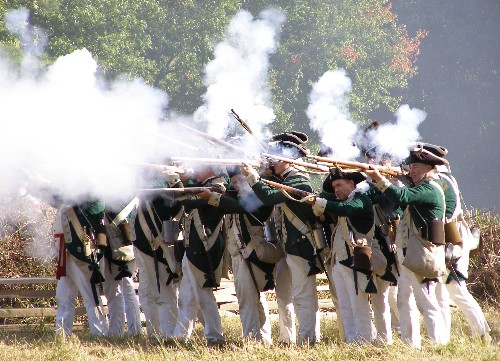 Hello, and welcome to Captain HAYDEN's Company of the 4th Battalion, New Jersey Volunteers.
Our group was founded in 1977 to take part in reenactments of the American Revolution and additional local civic events. Please refer to our schedule below to see what our future events are.
We are full members of both the British Brigade and the Brigade of the American Revolution and maintain their strict goals of authenticity. The uniform, seen above, represents the regiment as it appeared in 1777, with the distinctive green faced white regimental coat.
The original regiment was raised in November of 1776 by Lieutenant Colonel Abraham VAN BUSKIRK of Teaneck, New Jersey. It was one of six battalions of New Jersey Volunteers being raised in the province at that time, all under the command of Brigadier General Cortland SKINNER.

They served in many raids of New Jersey from their camp on Staten Island, Paulus Hook and other locations as well as taking part in the major battles of Connecticut Farms, Springfield and Fort Griswold. Detachments of the unit also served at the Siege of Charlestown, King's Mountain and Eutaw Springs, South Carolina. The battalion was renumbered third in a reorganization of 1781.
With the end of the war and the British loss of America, the New Jersey Volunteers were disbanded on October 10th 1783 along the River Saint John, in modern New Brunswick, Canada. To read more about the original regiment, please click here.
Thank you for visiting us. We welcome inquiries about membership or perhaps how the group can take part in your future event. Please contact us at the address below. Also check out our photos in the gallery by clicking here!

| | |
| --- | --- |
| Group Name: | 4th Battalion, New Jersey Volunteers |
| | Captain Samuel Hayden's Company |
| Contacts: | Todd W. Braisted |
| | 569 Holly Court, Mahwah, NJ 07430 |
| | Todd Braisted's Email Address |
| | Raymond Helge |
| | PO Box 6731, Monroe Twp. NJ 08831 |
| | Ray Helge's Email Address |
| Group Location: | Northeastern United States & Ontario, Canada |

2021 Schedule of Events
March 6
BB (Zoom/Virtual): Professor Greg Urwin ŅFrom Parade Ground to Battlefield: How the British Army Adapted to War in North America 1775-1783Ó*


March 13-14
BAR (virtual) School of Instruction **


March 20-21
BAR (virtual) School of Instruction **


March 27-28
BAR (virtual) School of Instruction **


March 27
BB (Zoom/virtual): Don Hagist ŅNoble Volunteers, the British Soldiers who fought the American RevolutionÓ*


April 3-4
Fort Ticonderoga Virtual Workshop, Making Ticking Breeches or Trousers (Gaiter/Trousers)
All Up Event


April 10-11
Battle of Bound Brook, Bound Brook/So. Bound Brook, NJ


May 22-23
Jacobsburg Historical Society, Nazareth, PA. Rev War Weekend


May 29
River Vale, NJ Memorial Day Weekend Memorial Commemoration. Saturday.


June 26-27
Battle of Monmouth Commemoration, Living History only, Monmouth Battlefield State Park, Bus. Rt. 33, Manalapan, near Freehold, NJ


June-July(?)
TBD Š BAR Event in Westchester County, NY (Ward Pound Ridge?)


July 17-18
Dey Mansion, Wayne, NJ. Dey Mansion WashingtonÕs Headquarters Commemoration.


July-Aug(?) TBD
4th NJV Picnic/BBQ Social event


Aug. 7-8

Old Sturbridge Village, Sturbridge, MA.

CANCELED! (Invite only. 2nd DeLanceyÕs attends, invited us to join with them.)


Sept. 4-5
Fort Henry Days, Wheeling WV (Maj. TimpanyÕs Coy. (BAR/NWD)


Sept. 4-5
240th Anniversary Battle of Groton Heights at Fort Griswold, Groton, CT. (HaydenÕs Coy)


Sept. 11 (?)
Peace Conference Commemoration, Conference House/BilopÕs House, Staten Island, NY


Sept. 18-19
Raid & Retribution at Fort Niagara, Youngstown, NY (BAR/BB/CL National)


Fall TBD
BAR Event in Rhode Island


Oct. 16-17
Fort Loudoun, PA. (BB National encampment)


Nov. 13-14
Battle of Hobkirks Hill, Kershaw, SC. near Camden SC (Southern Contingent)


Nov. 20
BAR, Fort Lee Historic Park, Fort Lee, NJ (traditionally Sat. only)


Nov. 21
Historic New Bridge Landing, Bergen County Historic Society, River Edge, NJ (often something on Sunday)


Dec. 26 (?)
Battles of Trenton, Old Barracks Museum, Trenton, NJ


2022 and beyond:


May 21-22
BB Mount Harmon Plantation, MD


Aug. 13-14
BAR/BB/CL Bennington/Walloomsac, NY


Sept. 24-25
Sandy Hollow/Brandywine, PA


Nov. 5
BAR, Putnam Park, Redding, CT


All the Umbrella Organizations are working on the 250th Anniversary Revolutionary War Events for 2025 through 2033.
Any BAR Member can attend any BAR Event regardless of Department/Region. BAR Events are published in "The Brigade Courier" and/or on the BAR website. Any member wishing to attend any other non-BAR Event should contact their Unit Commander and discuss possible registration.

Click here for ---> Reenactment Groups Main Page

<!**************END CONTENT //*****************> <!**************BEGIN FOOTER //*****************>

The On-Line Institute for Advanced Loyalist Studies
For information please contact Todd Braisted


Site maintenance and hosting courtesy of Brandwares.


Copyright Restrictions Document Formatting Optimal Viewing