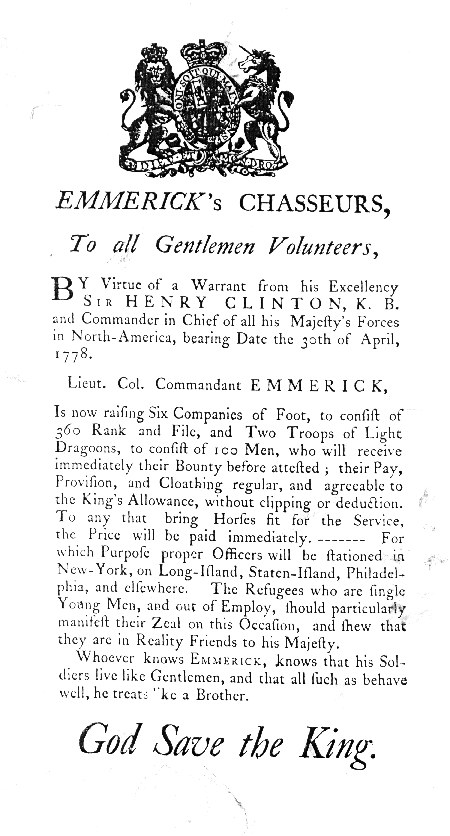 EMMERICK's CHASSEURS,
To all Gentlemen Volunteers,
By Virtue of a Warrant from his Excellency Sir HENRY CLINTON, K. B. and Commander in Chief of all his Majesty's Forces in North-America, bearing Date the 30th of April, 1778.
Lieut. Col. Commandant EMMERICK,
Is now raising Six Companies of Foot, to consist of 360 Rank and File, and Two Troops of Light Dragoons, to consist of 100 Men, who will receive immediately their Bounty before attested; their Pay, Provision, and Cloathing regular, and agreeable to the King's Allowance, without clipping or deduction. To any that bring Horses fit for the Service, the Price will be paid immediately. ------- For which Purpose proper Officers will be stationed in New-York, on Long-Island, Staten-Island, Philadelphia, and elsewhere. The Refugees who are single Young Men, and out of Employ, should particularly manifest their Zeal on this Occasion, and shew that they are in Reality Friends to his Majesty.
Whoever knows EMMERICK, knows that his Soldiers live like Gentlemen, and that all such as behave well, he treats like a Brother.
God Save the King.

Click here for ---> Regimental History Main Page
More Emmerick's Chasseurs History

<!**************END CONTENT //*****************> <!**************BEGIN FOOTER //*****************>

The On-Line Institute for Advanced Loyalist Studies
For information please contact Todd Braisted

Updated 9/01/00