The photograph and description of this absolutely beautiful officer's shoulder belt plate was kindly donated for our use by our friend Erik Goldstein, a private collector.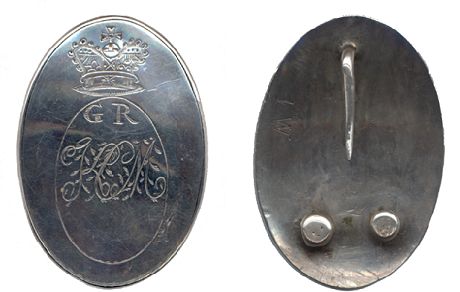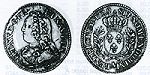 (host coin – 41mm dia.)



King's County Militia (Brooklyn, NY) Officer's shoulder belt plate, c.1780
Size – 79 mm x 56 mm
Thickness – about 1 mm at edge, but thins towards center of plate
Weight – 33.7 grams
This silver belt plate was made from a rolled out & hammered French ecu of Louis XV, of the type minted between 1726 and 1739. This is evidenced by traces of some of the reverse legend of the host coin, namely the word NOMEN, and parts of the wreath and central design devices, present on the back of the plate.
Although the obverse of the plate was smoothed before it was engraved, the reverse still exhibits the striations indicative of the rolling process. The hook and studs are hard soldered to the reverse of the plate, which is also engraved "IW," likely the plate's maker, or possibly an owner. It has been suggested that the empty space within the oval below the "KCM" may have been reserved for the engraved initials or cypher of the wearer, since other known Loyalist Officer's belt plates have this feature.
This plate turned up in the Toronto, Canada area in the late 1960s, and was purchased by an upstate NY collector as "unidentified," along with a Rev War dated Officer's commission in the King's County Militia (a copy of which I have on file).

Click here for ---> Regimental History Main Page
More King's County New York Militia History

<!**************END CONTENT //*****************> <!**************BEGIN FOOTER //*****************>

The On-Line Institute for Advanced Loyalist Studies
For information please contact Todd Braisted

Updated 2/01/01